Information About Our Company
The Saw Palmetto Harvesting Company is a direct supplier of Saw Palmetto, Serenoa repens, providing raw materials to distributors and manufacturers around the world.
Saw Palmetto, whose genus species name is referred to as Serenoa Repens, is a naturally grown medicinal herb. Saw Palmetto grows only in the very southeast corner of the US, primarily in Florida and Georgia.
The Saw Palmetto Harvesting Company is located in the center of prime saw palmetto growing territory. Located on US 27 in central Florida, mature saw palmetto berries are brought to our location for drying and processing from as far as Miami to the south, the Atlantic Ocean to the east, the Gulf of Mexico to the west and Georgia to the north.
We are now accepting contracts for semi loads or cargo loads (40,000 lbs) or more of dried or milled saw palmetto berries for the 2012 harvesting season. We have available 3 different grades of Saw Palmetto whole dried berries at very competitive pricing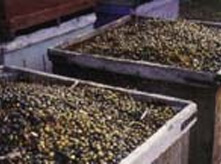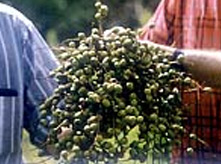 Organic certified
Plantation cultivated
Wildcrafted, which we refer to as street grade
All of the saw palmetto fruit that we grow or buy is closely watched by our harvesting staff from the picking through the drying stages to ensure the highest fatty acid content and proper drying.
The following products are available:
Dried Berries whole
Ground Berries coarse ground (Extract grade)
Ground Berries (20 mesh) capsule grade
Ground Berries (20 mesh) capsule grade (sterilized)
Standardized extracts:
25% - (2.5X) standardized powder extract
40% - (4X) standardized powder extract
85-95% - fatty acid standardized lipophilic extract
Bulk items for repackaging
500 mg capsules of powder
10,000 per box
Size 0
160 mg softgel
25,000 per box
Oval 4
320 mg softgel
15,000 per box
Oval 6
NEW Contract Packaging available